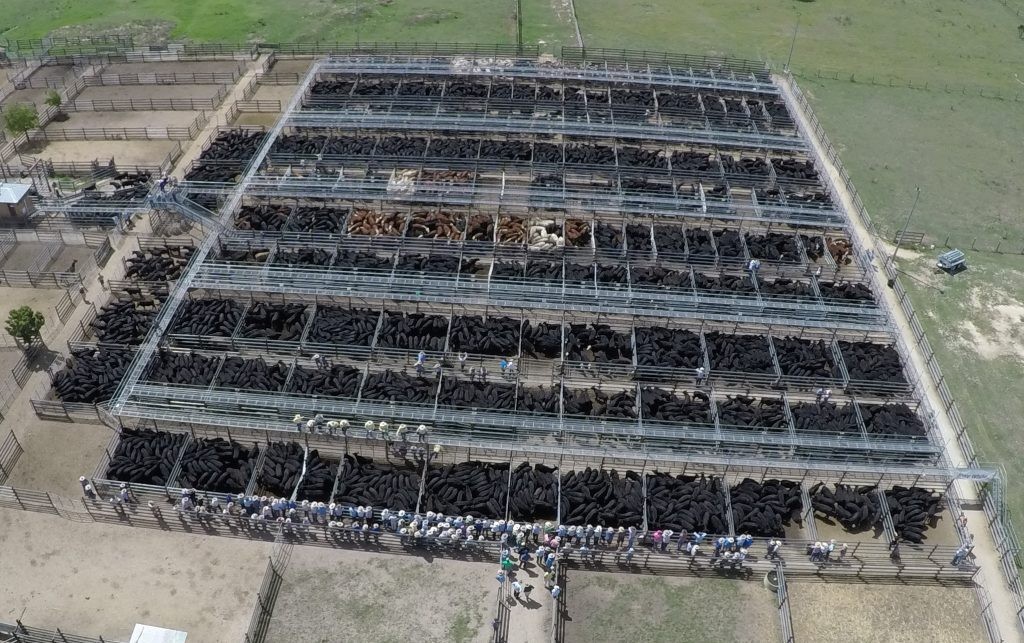 Tenterfield Feature Angus Weaner Sale
Thursday 14 March 2019 @ 11am EDST. Tenterfield Saleyards
4500 head now booked
Showcasing lines of superior quality weaners bred by the districts leading producers.
2400 Angus weaner steers
400 Angus cross weaner steers
1300 Angus weaner heifers
400 Angus cross weaner heifers
Comprising 1200 EU Accredited steers & 500 EU Accredited heifers. Weaners will be offered in brand lines giving the purchasers the opportunity to secure large lines on one brand quality weaners.
NW & SG GROGAN "Gardiners" Tenterfield
260 Angus weaner steers & 210 Angus weaner heifers
–
WOODLANDS PASTORAL "Woodlands" Tenterfield
140 Angus cross weaner steers & 60 Angus cross weaner heifers
EU ACCREDITED
Speriby North bloodlines
–
KJ & DM SHARPE "Warrigal" Tenterfield
140 Angus cross weaner steers & 80 Angus cross weaner heifers
EU ACCREDITED
Speriby North & Bellview bloodlines
–
MA & HM CLOTHIER "Dingo Hill" Tenterfield
130 Angus weaner steers & 130 Angus weaner heifers
EU ACCREDITED
Speriby North & Inglebrae Bloodlines
–
TM & SA CASEY "Knockdon" Tenterfield
125 Angus weaner steers & 125 Angus weaner heifers
EU ACCREDITED
Sara Park & Texas Bloodlines
–
AJ & JA CHRISTOPHERSON "Emaho" Tenterfield
120 Angus weaner steers & 80 Angus weaner heifers
EU ACCREDITED
Speriby North Bloodlines
–
BONADEA CATTLE CO "Bonadea" Liston
120 Angus weaner steers & 40 Angus weaner heifers
–
BJ BERRIDGE "Athlyne" Tenterfield
100 Angus weaner steers & 40 Angus weaner heifers
–
SAXBY PARTNERSHIP
100 Angus Weaner Steers
–
RD & RL CALDWELL "Alister" Tenterfield
80 Angus weaner steers & 60 Angus weaner heifers
EU ACCREDITED
Speriby North & Sara Park Bloodlines
–
WILLOWBURN PARTNESHIP "Willowburn" Tenterfield
80 Brangus weaner steers & 80 Brangus weaner heifers
Bellview & Gunnadoo Bloodlines
–
APPLEBUTT PARTNERSHIP "Applebutt" Tenterfield
70 Angus weaner steers
EU ACCREDITED
Raff & Gates Bloodlines
–
DEDES PASTORAL TRUST "Ellerslie Park" Brushy Creek
70 Angus weaner steers & 40 Angus weaner heifers
–
AL & VA SCHRODER "Glenoak" Tenterfield
60 Angus weaner steers & 80 Angus weaner heifers
–
I & J MCCOTTER "Featherview" Tenterfield
60 Angus weaner steers & 60 Angus weaner heifers
–
GEROMA PARTNERSHIP Tenterfield
60 Angus weaner steers & 30 Angus weaner heifers
Texas & Clunie Range bloodlines
–
GIBRALTAR PASTORAL CO "Gibraltar" Tenterfield
60 Brangus weaner steers & 60 Brangus weaner heifers
–
GASCOIGNE FAMILY TRUST Tenterfield
60 Angus weaner steers & 30 Angus weaner heifers
Speriby North & Alumy Creek bloodlines
–
GARTMORE ENTERPRISES "Hallcraig" Deepwater
50 Angus weaner steers & 50 Angus weaner heifers
EU ACCREDITED
Wattletop Bloodlines
–
JH & JC RICHARDSON RURAL "Wraxall" Tenterfield
50 Angus weaner steers & 50 Angus weaner heifers
Speriby North & Inglebrae Bloodlines
–
WOODBINE PARTNERSHIP "Woodbine" Tenterfield
50 Angus weaner steers
EU ACCREDITED
Speriby North Bloodlines
–
KR & LA WILLCOCKS "Warawee" Tenterfield
50 Angus weaner steers
–
SLO & CO "Marrawanna" Deepwater
45 Angus weaner steers & 15 Angus weaner heifers
–
GUNGEL PASTORAL "Gungel" Tenterfield
45 Santa Gertrudis weaner steers & 25 Santa Gertrudis weaner heifers
Gyranda & Hallcraig bloodlines
–
B & R FORD "Tyrone" Tenterfield
43 Angus weaner steers & 55 Angus weaner heifers
–
KGW BAGULEY "Bandon Grove" Tenterfield
40 Angus weaner steers
Nairn Park & Inglebrae Bloodlines
–
TD DOWE "Unala" Tenterfield
40 Angus weaner steers
–
BELINDA DOWN " Bilalooee" Deepwater
40 Angus weaner steers & 30 Angus weaner heifers
–
KELVINGROVE PASTORAL CO "Kelvingrove" Deepwater
35 Angus weaner steers & 35 Angus weaner heifers
–
DARRYL TAYLOR "Gagebourgh" Tenterfield
35 Poll Hereford cross weaner steers & 15 Poll Hereford cross weaner heifers
Remolea Poll Hereford bloodlines
–
KJ & LM TINDALL "Sunnyside Springs" Tenterfield
29 Angus weaner steers & Angus weaner heifers
–
CL & WE JONES "Montana Downs" Tenterfield
22 Angus cross weaner steers & 12 Angus cross weaner heifers
–
PG JONES "Bostons" Tenterfield
20 Angus weaner steers & 20 Angus weaner heifers
EU ACCREDITED
Tenterfield High School & Alumy Creek bloodlines
–
BJ & JM CHORLEY "Chipstaple" Tenterfield
20 Angus cross weaner steers & 20 Angus cross weaner heifers
Speriby North, Medlyn & Alumy Creek bloodlines
–
MONTY TRUST Tenterfield
20 Angus weaner steers & 20 Angus weaner heifers
EU Accredited
Speriby North bloodlines
Contact: Ben Sharpe – 0428 364 487